Our Group consists of a company and its three subsidiaries. It aims to become a vertically integrated comprehensive marine fishery products company by promoting the sixth industrialization that combines all processes from production to sales.

In our mainstay restaurant business, we operate the following in the Tokyo Metropolitan:
1. Swimming Torafugu Restaurant "Torafugu Tei"
2. Sushi chain "Sushi Tsune"
3. "Fresh Fish Restaurant"
4. "Wokuni" in New York, USA
We also operate an aquaculture farm in Hirado, Nagasaki and an external sales business that transports, processes, and sells live fish such as torafugu and yellowtail.
As a business that mainly handles marine fishery products, our Group also understand the importance of protecting and maintaining marine resources. We continue to enhance our effort to nurture marine resources by improving Bluefin tuna and Torafugu (blowfish) farming techniques. We make efforts to address economic growth and environmentally friendly to the Sustainable Development Goals (SDGs).
(Note: "Swimming torafugu" is a term coined to collectively refer to the Company's characteristic of providing customers with torafugu that is processed in a live state.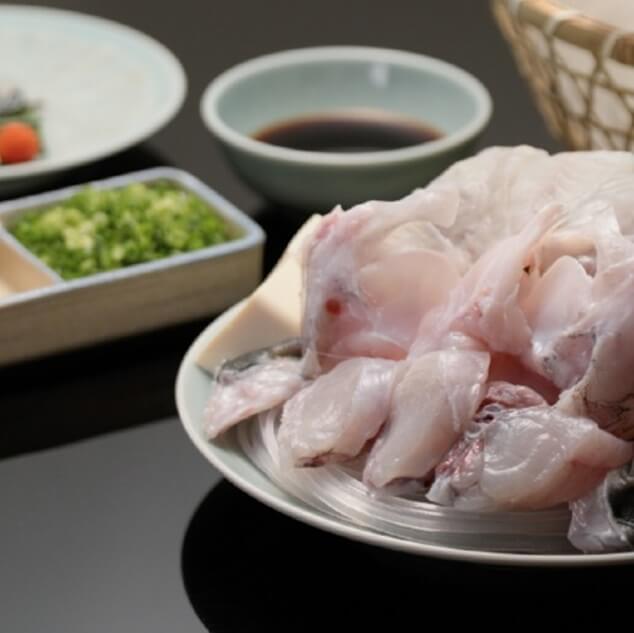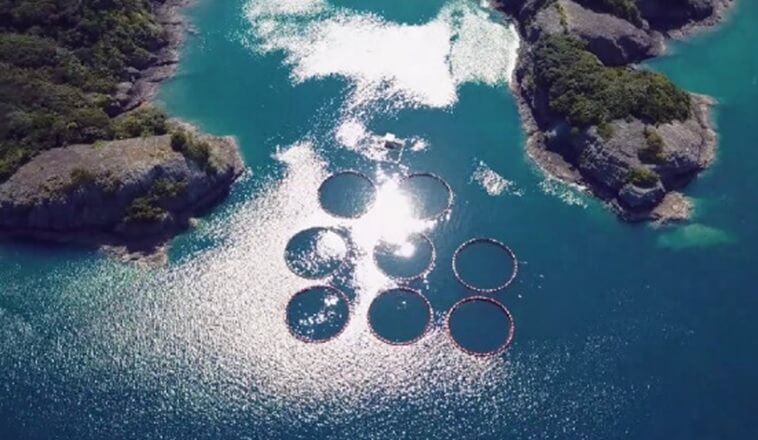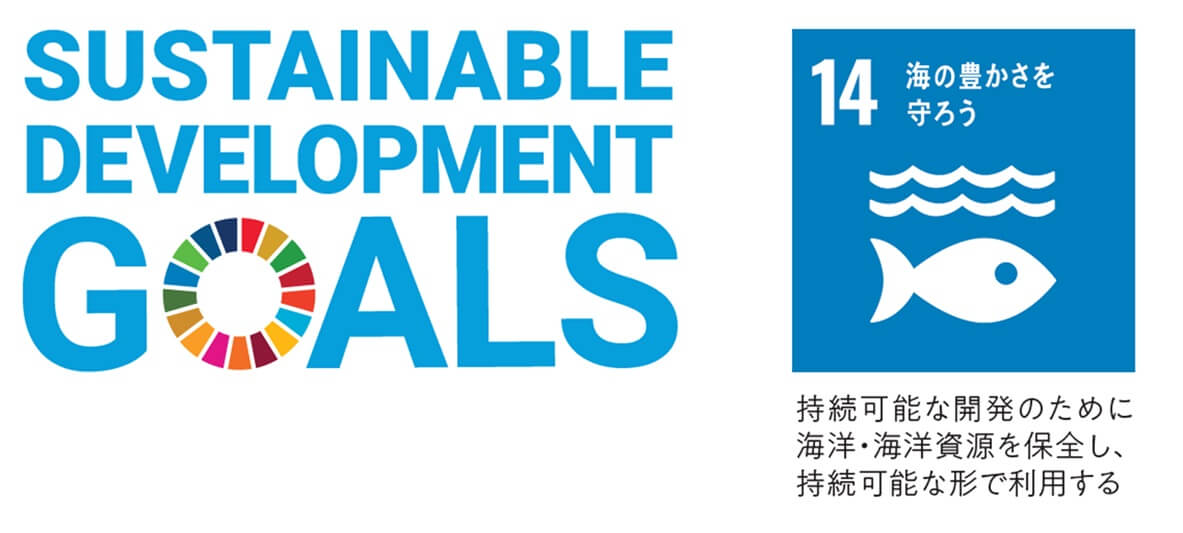 Food and Beverage Business: Synergies between "Sushi Tsune" and "Tokyo Ichiban Foods"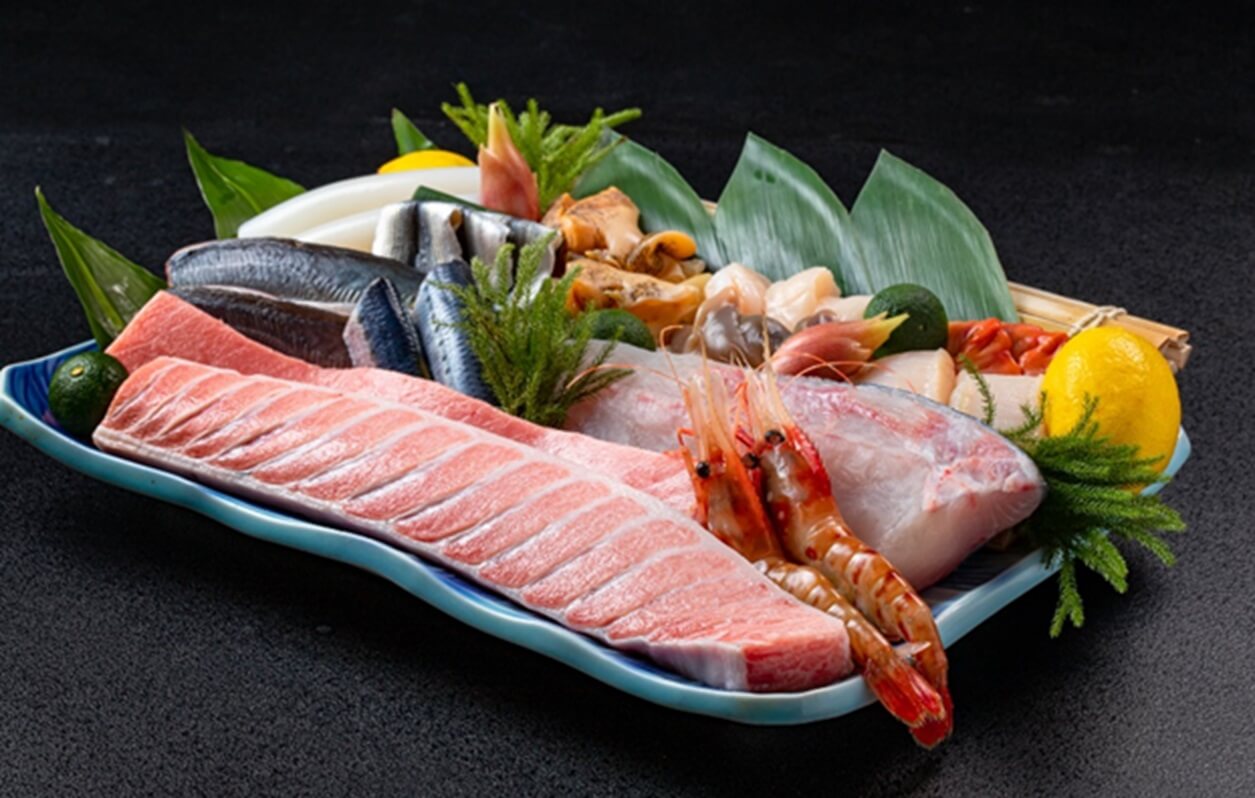 On June 1, 2020, we acquired the Sushi business "Sushi Tsune" brand restaurant and all its employees. We work revitalizing the business by brushing up the restaurant service system and utilizing its purchasing input. The "Sushi Tsune" brand is similar to "Torafugu Tei" brand in terms of its commitment to procuring marine products directly from the source by professionals and having them served in front of customers by well-experienced sushi Chefs. In addition, the cultivation of Bluefin tuna and other fish at the company's fish farm operated by a subsidiary is progressing steadily, and expanding the sales channel of "Sushi Tsune." "Sushi-Tsune's" addition to the Group has led to the strengthening of purchasing power for marine products and processed marine products, as well as the efficiency of logistics. We are promoting a synergistic management system for the seafood supply chain.
Torafugutei: https://www.torafugu.co.jp/en/
Sushitsune: https://www.sushitsune.co.jp/
Restaurant Business: New York「WOKUNI」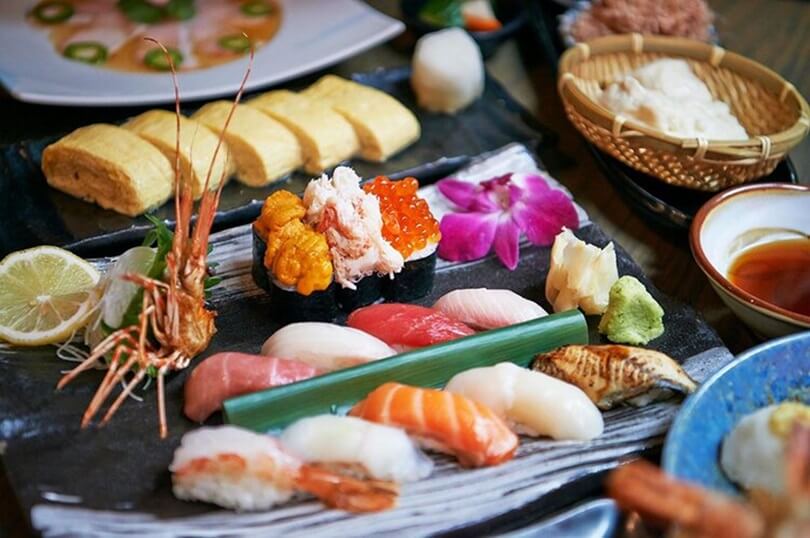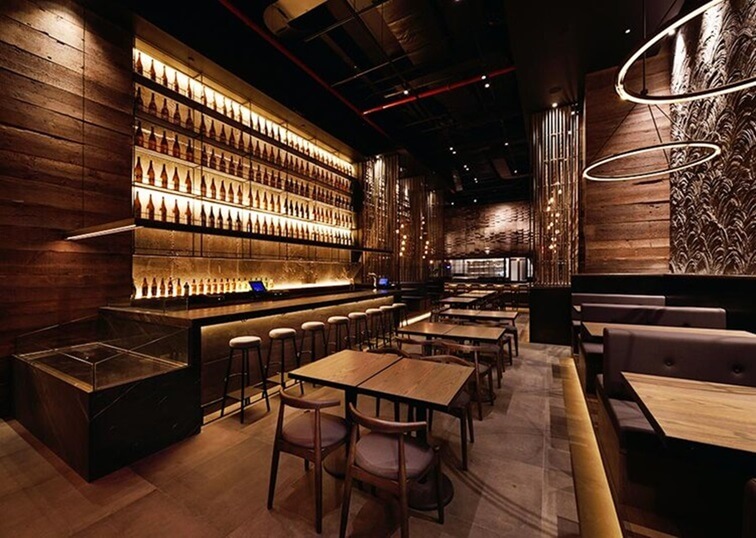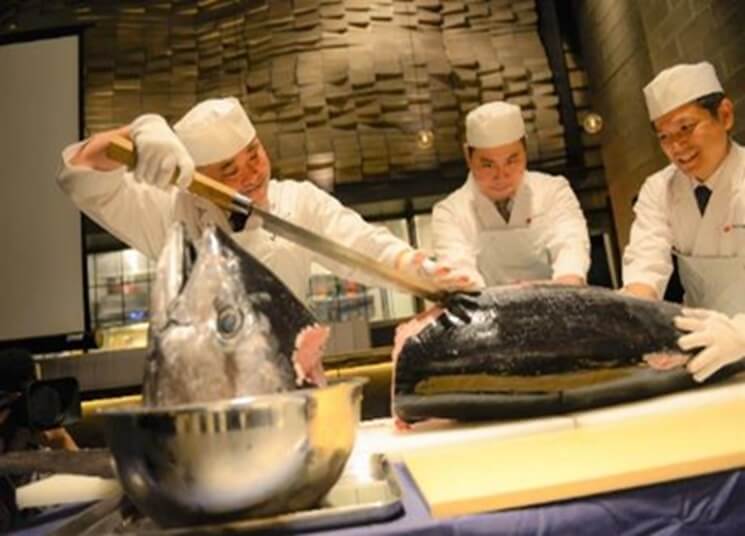 In October 2017, we opened a seafood restaurant named Wokuni in New York, USA. It does not only operate as a restaurant but also actively expands the sale promotion for seafood markets. It is a delivery channel as an antenna shop for Japanese marine products. Locally, Japanese marine products and food culture are highly appreciated. We work hard to raise awareness and understanding of Japanese marine products by holding a local tuna dismantling show in Wokuni. We also participate in JFOOD's sales promotion of Yellowtail and Hamachi, which is developed by JETRO (Japan External Trade Organization).
WOKUNI: https://www.wokuninyc.com/
Aquaculture business / external sales business: Nagasaki Farm
Nagasaki Farm Co., Ltd. operates an aquaculture farm in Furue Bay, Hirado City, Nagasaki Prefecture. It runs a Blowfish Processing Plant and a Distribution Center in Koto-ku, Tokyo. The farm produces Torafugu and its own brand of tuna, the "Hirado Hon-Maguro Kiwami Ichiban". The volume of fish caught and sold is steadily increasing due to improvements in quality and recognition. Through joint research on compound feed, we focus on the cultivation of a competitive Bluefin Tuna. Using the best Fugu Processing Plant in Tokyo, we transport live blowfish to our stores and external sales destinations in the Tokyo Metropolitan Area on time at a low cost. Since our company Torafugu Tei serves live domestic torafugu, we transport the fish by truck from Nagasaki fish farm to Distribution Center in Koto-ku, Tokyo. From there, we then deliver the live fish to our stores. One of the strengths of the company is that we have established traceability through consistent management from production and aquaculture to sales. With efforts to develop our overseas export business, in 2016, we obtained Fugu HACCP certification for processing plants, and in 2020, we acquired repack HACCP certification for tuna."
Nagasaki Farm: http://nagasaki-farm.co.jp/
Initiatives for SDGs
We are working on a project "secure and sustainable aquaculture production". In this project, we perform the following: water quality management, seafloor monitoring, fish feeding control, and fish stocking density management. We are also constantly working on finding intelligent solutions for a self-cleaning sea. Protecting the richness of the sea is directly linked to the development of healthy and delicious fish.We aim to contribute to sustainable aquaculture resources, such as Bluefin Tuna and Tiger Blowfish. We also strive to improve the quality, minimise losses, and contribute to enriching good food and protecting the abundance of the sea.